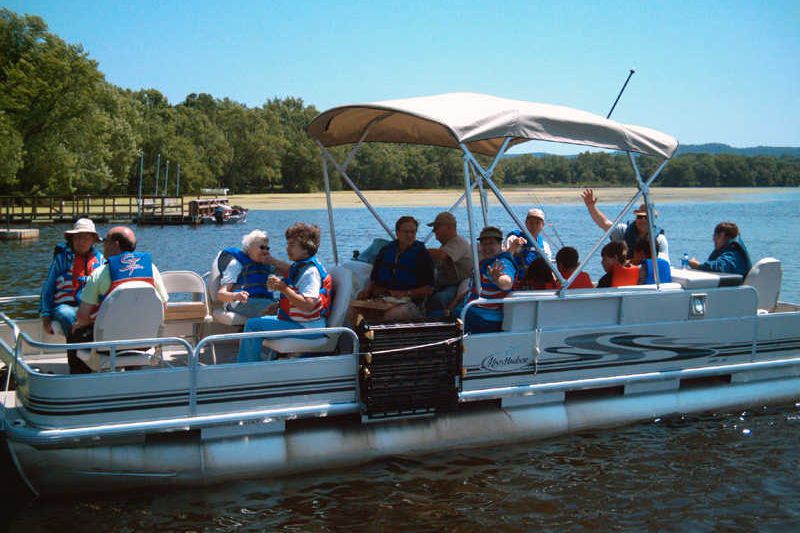 On July 28th, 2004, nasa introduced our first major project to the public: a pontoon boat dubbed the S.S. Squirrel (pictured above)! This boat is available at no charge to anyone with a disability and their family and friends, veterans, senior citizens over the age of 72, nursing facility groups, adult foster home groups, high school special education groups, youth groups, and other organizations working with the elderly, youth, or persons with disabilities. We got a new boat in 2015! We hope you take advantage of the boat and enjoy the water.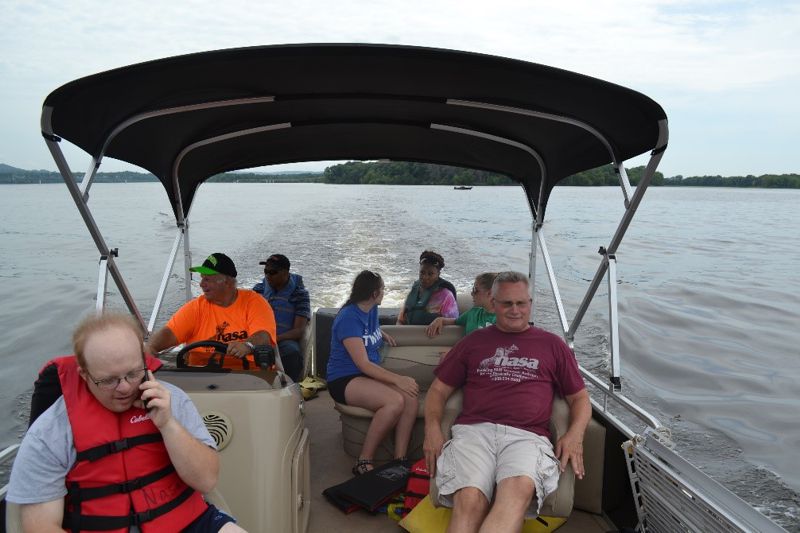 The S.S. Squirrel is a fully accessible vessel loaded with extras! It is equipped with a Roll-A-Ramp for easy on-and-off access for all users, a canopy for protection from the elements, and life vests for all passengers. Whether you want to go on a fishing adventure, a cruise on Lake Onalaska, or simply enjoy the sights and sounds of the backwaters of the Mississippi River, this is for you! All outings are guided by a trained captain who understands the boat and lake waters.
After each pontoon season ends, the S.S. Squirrel undergoes a thorough cleaning and engine overhaul to ensure the boat will be running smoothly and safely for the following year. Our pontoon boat is placed in the water each May 1st, and taken out each Fall by August 31st. In 2004, the pontoon boat served approximately 150 individuals. In 2005, it served over 300, and in 2006 and 2007 that number soared to over 600! In the summer of 2018, there has been over 200 boat cruises so far which is thousands of people! The reservations fill up quickly, so sign up early and don't miss this opportunity to get out and enjoy what the great outdoors has to offer!
Any person physically challenged or elderly (72 and above) and their guests are invited to use the pontoon boat up to two times per month. Reservations must be made at least 30 days in advance. You can begin making reservations on April 1st, and the boat comes out of the water August 31st. We have become very popular so we are limiting the use by each group or individual, so more people can use the pontoon boat during the summer.
The pontoon boat is free of charge, and we will provide a captain for each and every trip. We will have life vests for your use, and if you need fishing poles, please request them ahead of time.
Remember: The boat will only hold NINE passengers plus our captain. We can hold up to two wheelchairs at one time.