NASA Fishing Event - Why we do what we do!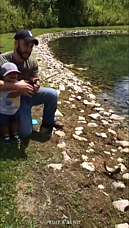 When we first found out we were going to be parents, taking our son fishing was one of the first things my husband mentioned looking forward to. When we were given Liam's Down Syndrome diagnosis, it was also one of the first things he asked if he would be able to do. With little to no knowledge about the diagnosis we had our doubts and questions, though I confidently replied "why not!?" This past July 8th n.a.s.a. (North American Squirrel Association) made the experience so much fun for our family, and from what we could tell, for every family that attended. We finally answered that doubt as we proudly watched, helped, and cheered Liam on as he reeled in his first fish. N.a.s.a. volunteers took care of absolutely everything so that we didn't have to worry about anything but enjoying ourselves. They cooked the fish that were caught and were there to help with anything from providing fishing poles, replacing hooks, and even taking the fish off of the hook if needed. Visiting with families old and new is always so refreshing, and this event was not the exception. We are so grateful and cannot wait to do it again next year!
Thank you to Susy Fort for contributing this article.