Helping the Elderly and Physically Challenged Enjoy the Outdoors
Formed in 2003, The North American Squirrel Association (nasa) is a non-profit organization that grew out of a desire to provide physically challenged and elderly members of our community with outdoor opportunities such as hunting and fishing. Using donated funds and equipment from generous individuals and businesses in the Coulee Region, nasa has been able to provide such opportunities free of charge to those in need, all the while continuing to grow.
We want to thank all the people and businesses who have donated to our cause over the years! If you go to the Friends of n.a.s.a. page you will see our list of donors and their websites. We encourage you to show your thanks by shopping with them and utilizing their services!
---
---
A thank-you note from our 2015 NASA Basic Rifle Marksmanship Clinic for Adults with Disabilities!
After our recent rifle clinic, we received the following email. It warmed our hearts! Scroll down to the bottom of the page to see our photo galleries, including one featuring the photos Steffanie sent to us of Austing at the clinic.
Good Morning!

I wanted to share a few pictures that I took while Austin and I and my uncle Dan were at the training camp last Saturday.

I wanted to say THANK YOU to all of you. You are a great group of people and every one of you are so caring and have a soft heart. Thank you so much for including us and making this camp possible for him. Austin is looking forward to rifle training next year.

As a mother I wanted to thank you personally. I have not seen Austin that happy in a long time. The look on his face and to see him run up to the range after lunch to get ready to shoot again. Austin does not normally run very much due to his vision. So to see this I was like WOW! It brought tears to my eyes. He is finding something that he truly likes and enjoys. You all gave him the confidence and the support that he can do this vision impaired or not. You all made us feel welcome that day and you are all so friendly to us. If we only had more people like you in this world!

So I wanted to thank everyone of you. Feel free to keep in touch! We would love to keep in contact with you. If you would ever need help with anything feel free to contact me. I Would love to help NASA out – what a great organization!

-Steffanie
---
Donated shotgun in use!
We'd like to say a big THANK YOU to the St. Joseph's Lions Club for the donation of this shotgun, which we lend out to disabled hunters who don't have their own gun to use. Here it is in action during one of our recent pheasant hunts!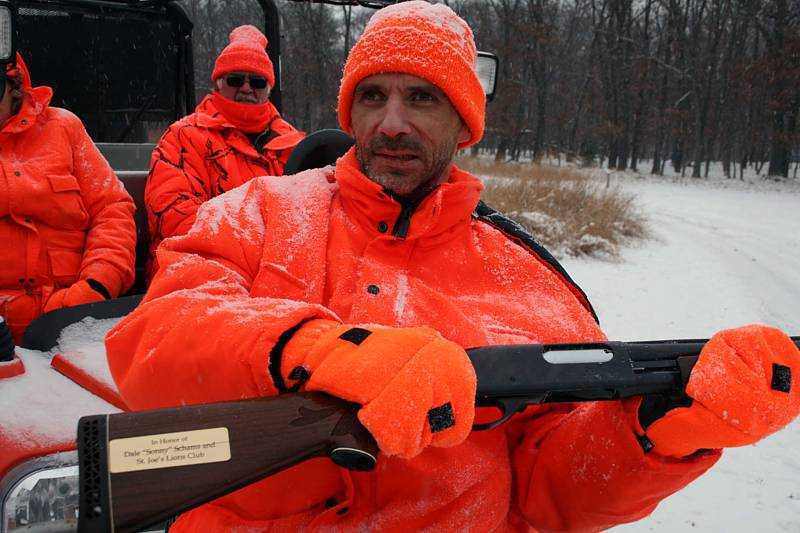 ---
2014 Adults with Disabilities Rifle Clinic Video
Here's a video spotlighting our first-annual rifle clinic for adults with disabilities, held on May 31st, 2014. Our thanks to everyone who participated, and to WKBT for the TV coverage!
---
2013-14 Discover Wisconsin n.a.s.a. Spotlight Video
Here's an edited video taken from the great Discover Wisconsin program, featuring many of the services we provide to disables persons in our area!
---
Billy Gowlland Memorial Squirrel Derby Video
Here's a video of the 2014 Squirrel Derby, held on January 25th! Congratulations to all of the gun winners!
---
Galleries of Recent Events
Click the image below to browse photo galleries from our recent events!